How has Corona changed life and society in Italy?
Interview with Luigi Barbareschi, AE Lohmann Italy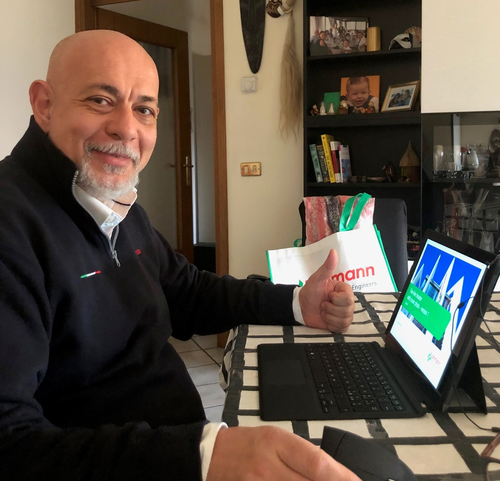 How has Corona changed life and society in Italy?
Regarding the Corona crisis Italy is a few weeks ahead of many countries. To get an insight into how COVID-19 has changed life and society in Italy, we have compiled a few questions for our colleague Luigi Barbareschi. He has kindly agreed to answer them from his point of view.
What did you think first when you heard about the corona virus?
As many experts were saying through the media it was just like a flue but heavier, I was thinking the same.
What were the first sanctions you recognized at work and in your everyday life?
Lohmann Italia reacted very well also anticipating some advises and restrictions which later came from authorities like: washing hands frequently, keeping distance between people, not more than three people in a room at the same time, getting temperatures from everybody entering the plant, starting to reduce presence of people on site in Lohmann Italia.
How has the virus changed your everyday life?
I cannot travel to visit customers for almost one month now, I have been in home office since three weeks, we stay home as much as possible, we go out just to buy food and medicines when necessary.
How would you describe the corona crisis in one sentence?
Thinking to number of people died (in Italy almost 16.000 till yesterday but probably more) I would say "A disaster which will change the way we do things."
How did the virus change the Italian people?
As you know we are normally very friendly and used to "physical contact". I think this crisis will change our behavior in the future.
How did Lohmann Italy react at the time of the outbreak of the crisis? Did you feel well informed and protected?
As I answered already before, I can say Lohmann Italy acted extremely well taking care of all its employees. Both those staying home and those who needed to go to the site to continue production were very well informed and highly protected.
What did you personally learn from the crisis?
There are many people available to sacrifice themselves in order not stop even in such a dramatic situation. Look at doctors, nurses but also all those who need to travel to go to work.
Do you see anything positive that the crisis might have caused?
Yes I think about volunteers ready to bring food and medicines to those who are old, alone and not able to go out. Concerning solidarity, which came from many people and companies, let me mention the fact we are the "only" country where i.e. gowns are coming from Armani, masks from Gucci, respirators from Ferrari, disinfectants from Bulgari and probably many others.
Do you have advice for others to get through the crisis?
Stay home, stay healthy, stay strong and do not forget there will be a fine after all of this.
ANDRÀ TUTTO BENE!